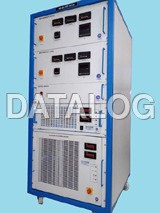 Fuel Cell Test System
Price And Quantity
Product Specifications
Test System

Fuel Cell Test Station
Product Description
Fuel Cell Test Station
=>
Specifically Designing for testing Mass flow Cell Stack.
=>
H2 flow and Air/O2 flow through suitable programmable mass flow controllers.
=>
Displayed Digital flow rate.
=>
N2 purging facility.
=>
Line Temperature Controller for both H2, O2 .
=>
H2 & O2 Humidification: 0 to 150ËšC (or) 70 to 100%RH.
=> Remote mode operation.
=> RS232 Interface with easy to user Application Software
=> Programmable Load Steps with Programmable sample rates.
=> Voltage and current display through digital Voltmeter and Ammeter
Two suitable Electronic loads provided:
0-60V, 0-100A, 600W
0-120V, 0-200A, 5000W
Provisions for run the FCT in:
Constant Current Mode
Constant Voltage Mode
Constant Power Mode
Constant Resistance Mode
Cell can run Mode in:
Activation Mode
Dynamic Mode
Static Mode
Protections: Over Voltage, Over Current, Over Power and Reverse Protection
Data Acquisitions : Current, Power, Voltage, Squib Current, Temperature
Terminations : By Time,By End Voltage,Forced Termination, Emergency Load Termination.
Limits : Temperature cut off, Voltage and current Cut off.
Indications: Voltage, Current, Output ON, Test On, Test Over
Contact Us
Plot No. 196, Phase-II, Cherlapally IDA, Near mint Compound, Hyderabad, Telangana, 500051, India
Phone :91-40-27261309